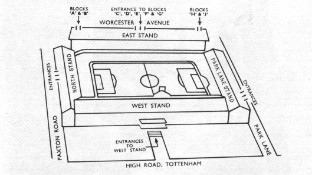 If you have any comments you would like to leave on this website, please email savetheredhouse@aol.com and they will be posted on this page
Although the Red House can not be classed as a 'best example' of Victorian architecture….its long association with the history of Tottenham Hotspur and Bill Nicholson should render it priceless to the club, board and supporters….Sometimes you don't know what you've lost until its already gone….
Barry Johns 17 Feb 09
the Red House is an element of the clubs link to the past that would be worthy of retention and re-use.
Kenny Donaghey 17 Feb 09
I really can't believe that such wanton recklessness could be so far up on the agenda of the new stadium development.
As a bastion of architecture perhaps Prince Charles might have some clout in this matter. There is much to be said for the re-tention of archtectural history as so much of our heritage, whether sporting, industrial or social is disappearing at an alarming rate.
It would not only be sad but criminal to see the red house disappear into the rubble of the past, as once the new stadium is in-situ, fine buildings such as the red house will be quickly forgotten and remembered only by the older fans who can only pass on their fond memories and sentimentalities to their children.
A picture of the red house on the wall of the new boardroom might well suffice for some: but there is no substitute for a creaking floorboard or the distictive smell of polish and age.
Capelgreenman 23 Feb 09
It saddens and sickens me that any ponced up overpaid architect can design a new building (or stadium for that matter) without considering local history and what it means to many people. Some of my fondest memories are of standing outside the Red House in 1967 when Billy Nick and the players dangled the FA Cup out of the first floor window to a couple of thousand barmy and delirious fans. Please don't demolish such an iconic building. Go away, knock down Tottenham Town Hall and build your monstrosity there.

If you are in any doubt, be warned - they will bulldoze the Red House in spite of any protests. Levy will sell off the bricks to us mug punters. Its called progress.
John Gaskin 23 Feb 09
How can Billy Nic's office not be a major part of our new museum? Seems people with out a real heart for Spurs make these decisions.
Come on Levy sort it out!!!!
John Hailes 23 Feb 09
This old building along with the Pub (renamed "The White Hart") should both be saved. Could the Red House become the Museum? The pub could become the focal point for a much larger THFC sort of welcoming area for fans and visitors both on and outside of match days. Maybe to include the club shop, cafe and restaurant etc. How great it would be to preserve this part of our heritage. By the way I really miss the Clock and the Cockerel when approaching the stadium it always gave me a lift. This had better not go missing
Eric Church 25 Feb 09
You don't get a second chance to preserve our heritage once the bulldozers move in
Steve 7 April 09
I have emailed the club and posted a link to 'save the red house' on the Spurs forum I am a member of, encouraging people to act now in order to save this iconic piece of our history, in addition to retaining the pub and Bill Nicholson Way.
I would hope that enough people comment and the club listens to the voice of the supporters. Daniel Levy is only a custodian of the club, it is the supporters who are the heartbeat of it and this building should be close to the hearts of those who love the club so much.
We have a proud history, we should not be apathetic to a cherished part of that history being taken away.
Matt Pooley 13 April 09
I agree with most of the other comments made on the site. Why can't the club incorporate the museum into the Red House? The new stadium will look fantastic and is long overdue, however from looking at the design it is clear that all links with the past and our long and proud history at the site will be lost. I think Mr Levy should think long and hard about this before the bulldozers flatten this iconic building.
Dave Button 21 April 09
Firstly... thank you for your work and interest in our heritage.
A Great idea, we must preserve our heritage and in this case a significant part of Tottenham Hotspur's history. There is too much wanton destruction of these old and glorious buildings in the name of modernisation, which will one day swallow everything, leaving the vast majority of the population to live in honeycombed houses of no character or history owned by Tesco!!!.
We need a John Betjeman type of person to hammer our sentiments to the developers.I think the new stadium plans look fantastic, (I was on a Stadium tour last week) and will do so much to bring our beloved Spurs into the 21st century. BUT in doing so it must accomadate a piece of history that will NEVER be replaced.
Keith 28 April 09
The Red House must be preserved,we will probably lose the great White Hart Lane name as Levy has indicated at least the Red House will maintain some connection to the old stadium.
Emanuel Daoud 28 April 09
The red house is one of my enduring memories of my visits to White Hart Lane. Living in New Zealand I know make do with a photo of the Lane and matches on the telly. However one day I want to travel to the new stadium. I think the red house will be an excellent link between the old and new. My daughter has White Hart Lane in her list of places she wants to travel to. By the time she makes it to London the new stadium will be in use. It would be ideal if the red house remained as a reminder to her of the past.

Shane Sinclair (New Zealand) 15 May 09
I just saw the post on SC about the Red House and the plans to demolish it (needlessly).
Although I am not from Tottenham it saddens me that such an important bit of history is being thrown out of the window. Whilst looking forward to the new stadium I have to say that I fully agree with your views and reasons to keep this iconic building. I am surprised the club are taking this stance.
This has probably been done but has a signed petition been submitted to the club ?
Simon 30 August 09